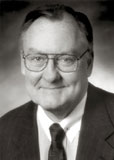 CHICAGO (AP) — One of the biggest names in Chicago legal circles is preparing to retire.
Winston & Strawn announced Tuesday that former Illinois Governor Jim Thompson will step down in early 2016 after 25 years with the high-powered law firm. The 78-year-old Republican served four terms as governor before joining Winston & Strawn after he left office in 1991.
In recent years, Thompson was best known as a family friend of another ex-Illinois governor, Republican George Ryan. During Ryan's prison stint for corruption, Thompson often served as his spokesman. Winston & Strawn lawyers represented Ryan.
Winston & Strawn says Thompson, as a chairman, played key roles in its expansion in the U.S. and abroad. Thompson will continue to work as a consultant for the law firm for two years after his retirement.
Copyright 2015 The Associated Press. All rights reserved. This material may not be published, broadcast, rewritten or redistributed.