The Morning Newswatch with Tom Miller
MONDAY to FRIDAY -- 06:00 AM - 09:00 AM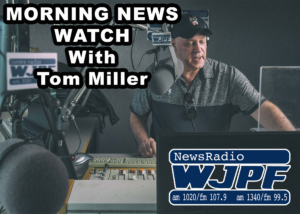 Tom has lived all his life in southern Illinois began his radio career in Harrisburg, his hometown, in 1976 and spent much of that time on the music side of radio. But after an unsuccessful attempt to be elected to the Williamson County Commissioners, he was offered the slot as Program Director of WJPF/WCIL-AM as well as the morning show host position.
Since his arrival WJPF has been awarded Medium Market Station of the year, and "Best Public Service Program" by the Illinois Broadcasters Association, as well as being awarded the "Leaders Among Us Award" from the Southern Illinoisan newspaper. Tom is a former member of the Board of Trustees of the Bald Knob Cross of Peace and was also awarded the "Seven Seals Award" by Illinois National guard for his work on behalf of the Illinois national guard. The "Seven Seals Award" is the Illinois National Guards highest civilian award.
Along with his on air announcing duties he also serves as the Operations Manager of River Radio and its six radio stations.
When not at work Tom spends his time with his girl Kate and his dog Geddy Lee looking for deer across southern Illinois.
"In the absence of truth, rumor prevails" Tom Miller