Saturday Morning News Watch w/ Taryn Jolly
Saturday -- 06:00 AM - 08:00 AM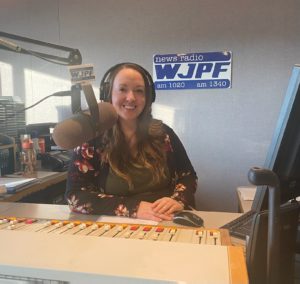 Taryn is the host for the News Radio WJPF Morning Newswatch on Saturdays from
6:00-8:00am.
Taryn attended college at SIU Carbondale, graduating in 2015 from the College of Mass
Communication and Media arts with a Bachelor of Arts in Radio, Television and Digital
Media.
While at SIU she worked as a reporter for the student produced River Region Evening
Edition and spent a summer working with the Street Team at CIL FM.
She also spent a year working as an associate producer for WPSD in Paducah after
graduating.
Taryn was born and raised in Carrier Mills, IL. During her free time she enjoys spending
time with her family and friends, watching movies and going to church.