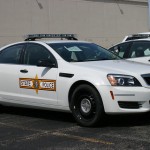 State Police are investigating a fatal crash that happened around 6:20 p.m. Wednesday at the Goshen Road rest stop in Jefferson County.
Police say a truck driver exited Interstate 64 from the westbound lanes. For an unknown reason he failed to stop, striking a tree and then a parked semi. A third semi was also struck.
The driver of the semi that failed to stop was fatally injured.