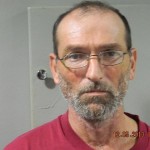 Hamilton County, Ill. – A man will be sentenced in August after pleading guilty to driving under the influence during a crash that killed five people.
49-year-old Darrell Delong of Collinsville pleaded guilty to driving drunk in November when his truck rolled over several times on a country road in Hamilton County.
Five people, including Delong, his wife, step-daughter and niece were ejected. Another person was trapped inside the vehicle. Delong was the only survivor.
He faces up to 20 years in prison.