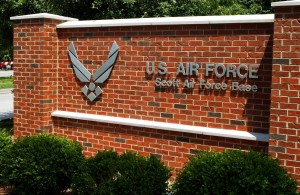 MASCOUTAH, Ill. (AP) — Scott Air Force Base is among six finalist sites for a relocation-minded secret government agency that helped coordinate the hunt for Osama bin Laden.
The Defense Department says the air base near Mascoutah east of St. Louis joins five other St. Louis sites, all in Missouri, in the competition for the National Geospatial-Intelligence Agency.
That employer of some 3,000 people is now located along the Mississippi River in St. Louis. The Defense Department unit also has a site in the St. Louis suburb of Arnold, Missouri.
The agency is a combined defense and intelligence agency responsible for collecting, classifying and analyzing human activity and showing that activity in the form of maps, charts and imagery intelligence.
The move is not expected for another seven or eight years.
(Copyright 2014 The Associated Press. All rights reserved.)