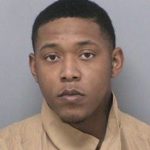 GALLATIN COUNTY, Ill. (WJPF) – First degree murder charges have been announced in the February death of a Gallatin County man.
On February 15, Nathan Dobbs, 45, was found shot to death on McClernand Avenue in Shawneetown.
Demetrius Walker, 20, of Mt. Vernon, was arrested Friday on an unrelated warrant. He was then charged on Sunday with first degree murder in the death of Dobbs. Walker remains behind bars on a $5 million bond.