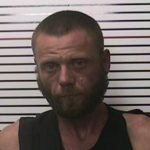 CARBONDALE, Ill. (WJPF) – A Vergennes man was caught by Carbondale Police breaking into a vehicle.
Carbondale Police say they were called to the 300 block of West Walnut at about 6:10 p.m. Tuesday. When officers arrived, they found Gerald Stroud, 37, inside of the vehicle and in possession of property that belonged to the vehicle's owner.
Stroud was taken to the Jackson County Jail on charges of burglary to motor vehicle, obstructing identification, and possession of a hypodermic syringe or needle.