MACOMB, ILL. (AP) — THE board of trustees at Western Illinois University voted Monday to appoint the school's 12th president, according to university officials.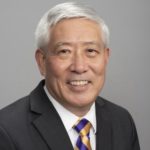 Guiyou Huang, who is currently the president of Edinboro University in Pennsylvania, takes over the new post in January.
Huang called it "an honor and a privilege to be selected," according to a university statement.
Earlier this month, board members interviewed six candidates. The board will meet next month to approve a salary.
More than 7,500 undergraduate and graduate students attend WIU, which has two campuses.