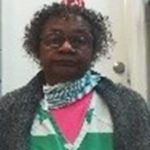 CAIRO, Ill. (WJPF) — A 66-year-old Cairo woman is now facing charges in connection to a 2018 murder.
Mary Davis was arrested Thursday, September 10. She now faces five counts of first degree murder and one count of concealment of a homicidal death. She was released after posting bond.
Illinois State Police say in May 2018, the body of 63-year-old Tomie Edwards, of Cairo, was pulled from a river In Madisonville, Kentucky.
An autopsy indicated Edwards did not die from natural causes.