Josten Denwood | Carbondale Police
CARBONDALE, Ill. (WJPF) — A second arrest has been made in connection to a shooting and police standoff last week in Carbondale.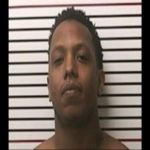 28-year-old Josten Denwood has been charged with Aggravated Discharge of a Firearm and Unlawful Use of Weapons.
Last Monday, police arrested 27-year-old William Stewart after a disagreement among a group of people on East Ashley Street ended in Shot fired. Stewart ran to an apartment on East Chestnut Street where, for several hours, he refused to surrender to police.