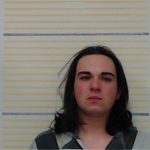 PERCY, Ill. (WJPF) — A 22-year-old Cutler man is facing theft and drug charges in connection to recent string of burglaries in the Percy area.
Devin Johnson was formally charged Monday with two counts of burglary and one count of unlawful possession of methamphetamine.
Johnson was taken into custody Friday night. Physical evidence that police believe links Johnson to the crimes was found Friday night as well.