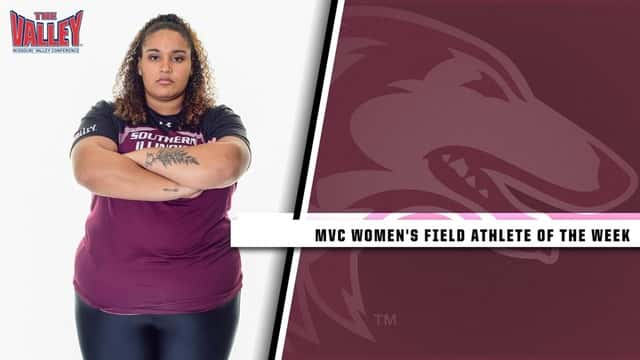 Photo from siusalukis.com
ST. LOUIS – Senior thrower Alexis Roberson has been named the Missouri Valley Conference Women's Field Athlete of the Week for the second time this season after her performance at the Indiana Relays, the conference announced today.
Roberson threw for a life-time best 21.60 meters (70′-10.50″) en route to placing sixth in the weight throw at the meet. The Jefferson City, Mo. native shattered her previous PR of 69′-07.50″ and in doing so moved up to sixth on SIU's top-10 list.
She now sits at 10th in the NCAA ranks and first overall in the Missouri Valley Conference.
The Salukis will have the next weekend off from competition before heading down to Nashville, Tennessee to take part in the Vanderbilt Music City Challenge on Fec. 14-15.
This press release first featured in siusalukis.com