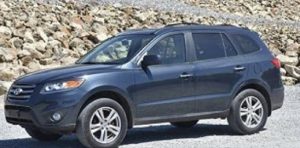 FRANKLIN COUNTY, Ill. (WJPF) — Authorities in Franklin County are searching for an armed and dangerous man who assaulted a police officer and later led police on a high speed chase through two counties.
Police were called to East Matthew Street in Sesser around 10:00 AM Wednesday after a complaint of an unwanted person at a home.
Police attempted to place 43-year-old Anthony Melvin under arrest. Melvin resisted, eventually pulling a knife on the officer. Melvin was disarmed, but escaped on foot. The officer received minor injuries.
A few hours later, Melvin was spotted in a stolen SUV and led police on a chase through Franklin and Perry Counties, again avoiding arrest.
Melvin is considered to be armed and dangerous. The public is warned not to approach or confront him.