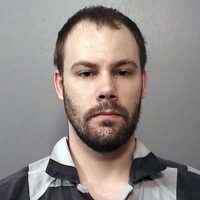 PEORIA, Ill. (AP) — A prosecutor is telling a federal jury that convicted a former University of Illinois doctoral student last month in the kidnapping and killing a Chinese scholar deserves the death penalty because the crime was "cold, calculated, cruel and months in the making."
Assistant U.S. Attorney James Nelson on the first day of the penalty phase of told the jury about how Brendt Christensen not only brutally killed Yingying Zhang in June 2017, he hid her body and has deprived her family the chance to give her a proper burial in China. He said "there will be no closure" for the family.
The jurors will be asked during the trial's penalty phase that's expected to last several days whether they should follow the recommendation of prosecutors by imposing the death penalty or order Christensen to be sentenced to life in prison without the possibility of parole as his attorneys are expected to recommend.
To make its case, the defense called a court-appointed attorney who told the jury about Christensen's lifelong struggle with mental health issues.