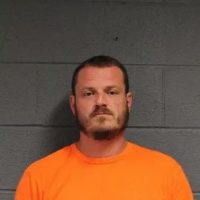 CENTRALIA, IL. – One person is in custody this morning after an officer involved shooting and high speed chase through multiple counties.
It all started around 1:20 Tuesday morning when Du Quoin City police were called out for a reckless driving complaint. The suspect, 41-year-old Nathan Johnson shot at the officers multiple times. One of the officers returned fire.
Johnson then fled. Police pursued, but lost contact. His vehicle was spotted sometime later on US 51 in Washington County. Officer with the Centralia and Wamac Police Departments the picked up the pursuit.
Johnson again fired at the officers, this time hitting a Centralia Police car.
Still on the run, Johnson drove to his home where he jumped out of the car and ran into some woods. After a short stand-off he was taken into custody.
No one was hurt in the incident.
Johnson was taken to the Washington County Jail.