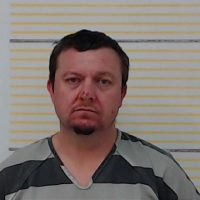 After a nearly eight hour standoff with police yesterday, a Chester man has been arrested and charged with falsely making a terrorist threat.
40 year old Toby Latham was taken out of his home in handcuffs around 7:45 AM Monday.
Court documents show that Latham knowingly made false threat to commit a terrorist act, claimed to have hostages, which he threatened to kill if his requests were not met, told police at the scene he would not be taken alive, and claimed to have bombs he would detonate.
Following his arrest, Latham was taken to the Randolph County Jail. His bond set at one hundred thousand dollars.
No one was injured in the ordeal.