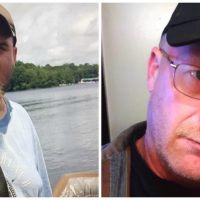 Both of those armed and dangerous suspects the Hardin County Sheriff's Office had been searching for have been arrested – and authorities say they stabbed a man and set him on fire.
Authorities say Cave in Rock firefighters responded to a call Monday night and found a man who had been stabbed and set on fire – leading to his house catching on fire.
Josh Mohring and Shawn Walton have been charged with attempted murder and aggravated arson in the case. They are due in court Aug. 22.