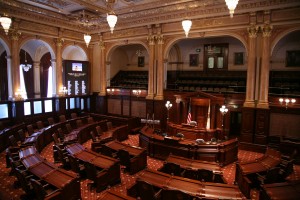 SPRINGFIELD, Ill. (AP) — Illinois lawmakers are gearing up for debates on whether to change the way legislative districts are drawn every decade.
The issue is one that first-term Republican Gov. Bruce Rauner has asked lawmakers to address to ensure maps for congressional and state legislative seats are drawn fairly. It's one of the matters he wants lawmakers to tackle as a condition to resolving the 10-month budget standoff with Democrats in control of the Legislature.
Currently, the majority party draws the maps. But a Democratic proposal advanced by a House committee Monday would give the job to an eight-member panel appointed by two state Supreme Court justices representing each party. The proposal is headed for consideration by the full House.
A Senate committee is expected to consider an alternative plan Tuesday.
Copyright 2016 The Associated Press. All rights reserved. This material may not be published, broadcast, rewritten or redistributed.