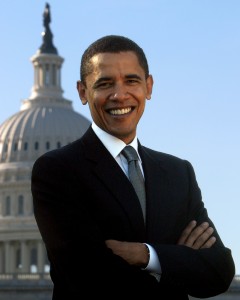 President Obama's speech to the General Assembly likely won't include detailed suggestions on how to end the state budget impasse.
Ahead of the speech, White House press secretary Josh Earnest said on a conference call that Obama had no plans to play "back-seat driver" when it comes to the budget stalemate, now in its eighth month. He said the goal was to expand on the themes presented in the State of the Union address, while also celebrating the 9th anniversary of the launch of his presidential campaign in the building where he spent eight years as a legislator.
"There has always sort of been the sense that going back to Springfield on the anniversary of his announcement speech would be fun to do," Earnest said, "and it would serve as the background for a discussion about the kind of potential that the president sees in the country."
U.S. Sen. Dick Durbin (D-Ill.) is scheduled to be in attendance for the speech, and he expects Obama to stay off state government's issues.
"What they've told me is he wants to really address the need for more cooperation to solve problems nationally and at every level," Durbin said. "I doubt he will get directly or personally involved in the current budget impasse in Springfield."
But some lawmakers, like House Minority Leader Jim Durkin
(R-Western Springs), want Obama's opinion on the budget battle.
"I hope he will speak about the virtues of bipartisanship to move away from the politics of the past, and that's what I'm prepared to do," Durkin said.
Gov. Bruce Rauner is hoping Obama repeats his support for changes to the redistricting process, which was mentioned in his State of the Union address and has long been a part of Rauner's "turnaround agenda." Rauner also says his first year as governor has made him sympathetic to Obama's difficult relationship with Republican majorities in Congress.
"It's very difficult when you've got folks from different parties who strongly disagree on some policy and neither side is willing to compromise," Rauner said. "The president's dealt with that in Congress, and I'm dealing with that in the legislature."
This isn't the first presidential visit to the General Assembly. President Jimmy Carter spoke to state lawmakers in May 1978. Secretary of State Jesse White was serving in the Illinois House at the time, though he couldn't recall any specific memories of Carter's visit.
"Jimmy Carter was one of my heroes, and so is Barack Obama," White said.
Obama is scheduled to begin speaking at 1:30 p.m. His speech will not be open to the public, with only invited guests, elected officials and people with credentials being allowed inside the House chamber.
Copyright 2016 Illinois Radio Network