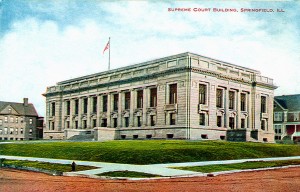 SPRINGFIELD, Ill. (AP) — Illinois Supreme Court justices peppered the state's lawyer over her claim that lawmakers could cut public-pension benefits because of a fiscal emergency.
Solicitor General Carolyn Shapiro argued before the high court Tuesday. She says a $111 billion deficit in four retirement accounts and other state debts are sufficient reason for the state to invoke its "police powers" to reduce pension benefits, as lawmakers did with an overhaul in 2013.
But Justice Robert Thomas asked repeated questions about whether the state itself created the emergency by low-balling required annual pension payments for decades. Shapiro says the 2008 recession and uncertain inflation rates have been major contributors to the problem, too.
State employees and retirees say the law violates a constitutional prohibition on action to "impair or diminish" benefits.