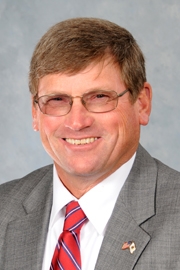 CARBONDALE, Ill. (AP) — The new director of the Illinois Department of Natural Resources says his farming and military experience will help make for a smooth transition.
Former State Rep. Wayne Rosenthal takes over the top spot at the natural resources department from Marc Miller, who was appointed by former Gov. Pat Quinn. Rosenthal, a Republican, stepped down from the state representative post that he was first elected to in 2010.
Rosenthal tells reporters that he gained leadership and management skills from his 30 years in the Illinois Air National Guard and 20 years operating his family's grain farm. He also says he won't be swayed by past donations from energy companies, nor should it matter that he lacks a biological sciences background.
The Department of Natural Resources oversees state parks, hunting and fishing in Illinois, and the Office of Mines and Minerals, among other duties. The agency has 1,300 employees.
Copyright 2015 The Associated Press. All rights reserved. This material may not be published, broadcast, rewritten or redistributed.