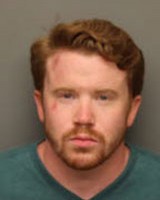 MEMPHIS, Tenn. (AP) — A son of Illinois Senate President John Cullerton has been charged with sexual battery after allegedly groping a woman in a Tennessee bar.
The Commercial Appeal in Memphis, Tennessee, reports that 26-year-old Carroll Cullerton was arrested at 3:49 a.m. Friday after a woman alleged that he touched her inappropriately.
A spokeswoman for John Cullerton — a Chicago Democrat — says only that the incident was unrelated to state business or the Senate president's office.
A message left at the Cullerton residence in Chicago by The Associated Press Sunday wasn't returned.
The newspaper says Carroll Cullerton posted $7,500 bond and was released. WMC-TV in Memphis reports that he is due back in court on Monday on a charge of sexual battery.
It was immediately unclear if he has an attorney.
(Copyright 2014 The Associated Press. All rights reserved.)