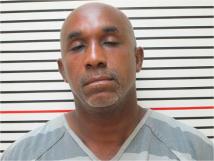 Carbondale, Ill. – A man from Carbondale is accused of stealing two vehicles, one of which was involved in the high speed chase we told you about yesterday.
50-year-old Bernard Adams was arrested Wednesday night after crashing a SIU-owned truck he is accused of stealing from a gas station.
Police also accuse Adams of stealing a grey Mercedes. They say that vehicle was involved in a hit-and-run with another vehicle at the corner of East Main Street and Wall Street around 10:10 p.m. The Mercedes was later found abandoned.
He is charged with possession of a stolen vehicle, aggravated fleeing to elude, hit-and-run, driving while license revoked and resisting a peace officer.