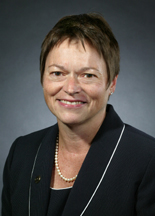 SIU Chancellor Rita Cheng is likely heading out of town to take over as president of Northern Arizona University.
The Arizona Board of Regents named Cheng as the lone finalist for the president position at the university in Flagstaff.
NAU's current president, John Haeger is stepping down at the end of his contract in June 2015. He has said that he would step down sooner than that if the right candidate is identified.
Cheng will appear on the NAU campus June 12th.
The selection is still pending a vote from the Arizona Board of Regents.
Former Carbondale Mayor Joel Fritzler also left his job at SIU for a position at Northern Arizona University earlier this year.