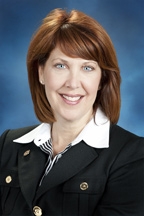 Illinois state Rep. Carol Sente says she won't run for re-election in 2018.
The Vernon Hills Democrat tells the (Arlington Heights) Daily Herald that she met with House Speaker Michael Madigan on Monday to tell him about her decision. Sente's been in office since 2009. She says she initially planned to be in office for between eight and 12 years.
Sente is one of a handful of Illinois state lawmakers who recently said they're stepping down, including Northbrook Democratic state Rep. Elaine Nekritz and Senate Republican leader Christine Radogno (rah-DOH'-nyoh) of Lemont.
Sente says she believes moderate legislators are getting lost and that's troubling. She says "those of us in the middle, frankly, are drowning." Sente didn't announce immediate future plans but said she will "remain open to other opportunities."