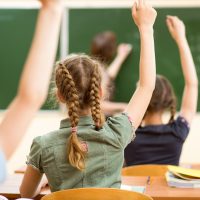 Gov. Bruce Rauner's top education adviser will be leaving her post.
Rauner's office announced late Monday that Secretary of Education Beth Purvis' last day will be Friday.
The move comes after Rauner recently signed into law a new school funding formula.
Among other posts, Purvis led a school funding commission
Emily Bastedo, who served on Rauner's legal team and as first lady Diana Rauner's chief of staff, will temporarily oversee Rauner's education policy team.