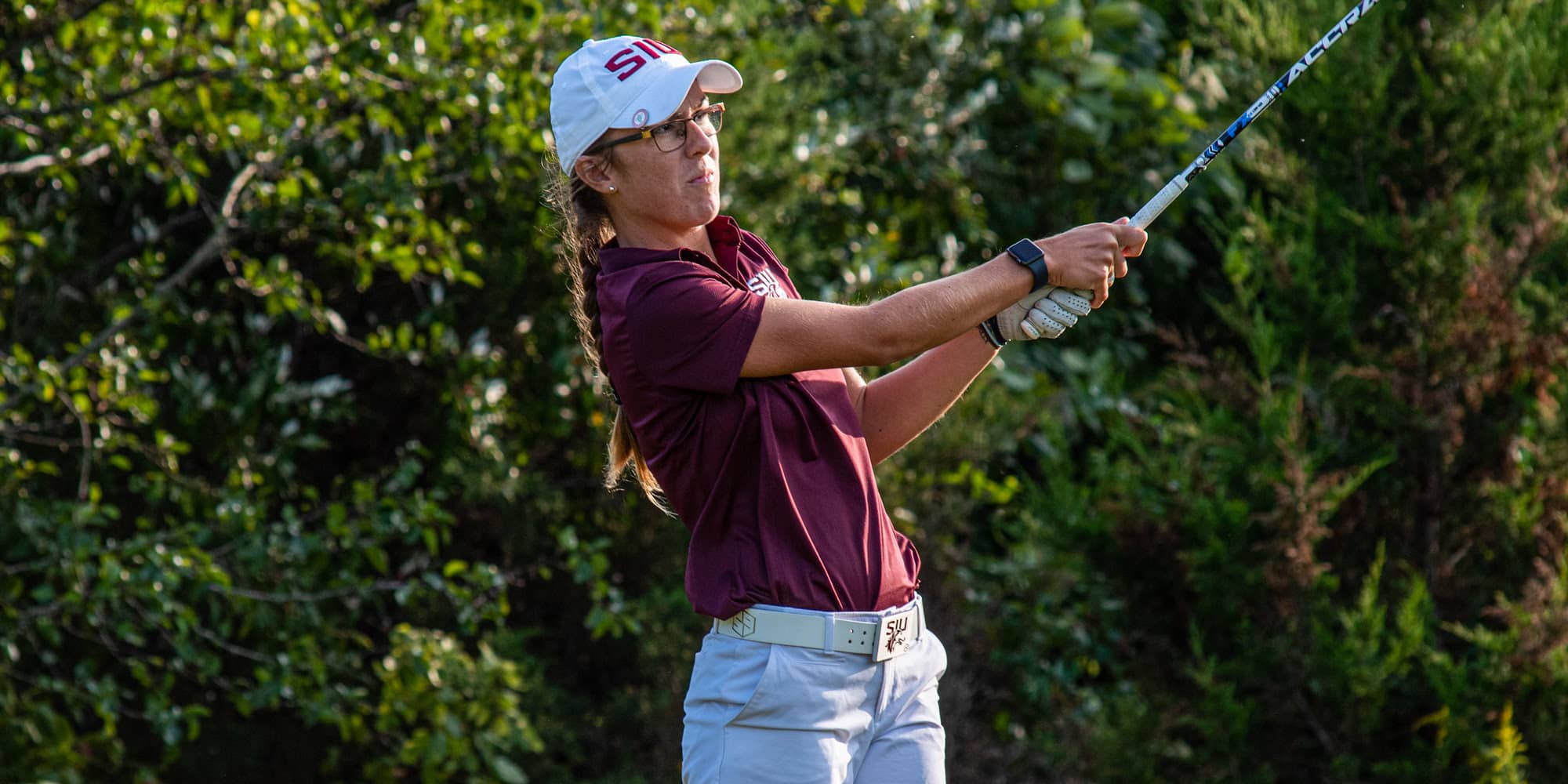 The Southern Illinois Women's Golf team finished the first day of the Hoover Invitational in third place. The Salukis (+16) carded back-to-back rounds of 296 and currently trail the University of Indianapolis (+11) by five-strokes. Western Kentucky University (+6) leads the field with a score of 582 after the first 36-holes of competition.
The Saluki seniors lead the way for SIU. Emilyee McGiles is tied for first-place overall at 1-under par with six birdies on the day. Carding seven birdies in the opening rounds, Moyea Russell is tied for third place overall at even par. Fifth-year senior Erica Kerr (+10) carded an eagle in the first round and is tied for 35th with a total of 154.
2020 MVC Newcomer of the Year Ayanna Habeel (+7) finished the day tied for 23rd overall with a total of 151. In her Southern Illinois debut, freshman Janie Samattiyadeekul shot five birdies and sits tied for 55th. Sophomore Amelia Lawson (+11) is playing as an individual and is currently tied for 42nd.
The Salukis tee off for the final round of 18-holes on Tuesday at the Hoover Country Club in Hoover, Alabama. Weather is forecast to be cloudy with highs in the 70s. Live scoring will be available on GolfStat.
TEAM
1 Western Kentucky 295-287 (+6)
2 Indianapolis 293-294 (+11)
3 Southern Illinois 296-296 (+16)
T4 Chattanooga 301-294 (+19)
T4 UAB 296-299 (+19)
6 ULM 304-294 (+22)
7 Troy 301-298 (+23)
8 Middle Tennessee 306-297 (+27)
9 South Alabama 308-300 (+32)
10 Little Rock 305-309 (+38)
SIU
T1 Emilyee McGiles 71-72 (-1)
T3 Moyea Russell 74-70 (E)
T23 Ayanna Habeel 76-75 (+7)
T35 Erica Kerr 75-79 (+10)
T55 Janie Samattiyadeekul 77-81 (+14)
T42 Amelia Lawson 78-77 (+11) *Individual