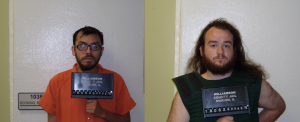 Two Williamson County men are facing charges in connection to the kidnapping of teenage boy from Mississippi.
Authorities say 14-year-old John Peal III showed up at the Lake of Egypt Fire Department on Sunday, asking the people there to contact the proper authorities. He was accompanied to the firehouse by one of the men who now faces kidnapping charges, 29-year-old Jason St Aubin.
Peal had been missing since last Wednesday, when, according to his parents, he left his Mississippi home after making plans to meet someone in person, whom he contacted using Discord, a video game centered chat app.
Tuesday, Williamson County Sheriff's Deputies, with the cooperation of Mississippi authorities, served search and arrest warrants to a Lake of Egypt address. Jason St. Aubin and 30-year-old Juan Andrade were taken into custody on Mississippi kidnapping charges. Additional charges from the State of Illinois are expected.
Peal has since been reunited with his family.