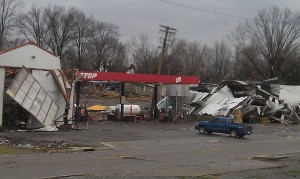 HARRISBURG, Ill. (AP) — People will gather to mark the anniversary of a deadly tornado that killed eight people in the small Saline County community of Harrisburg on a day that hasn't been on the calendar in four years.
Though the tornado happened four years ago, this will mark the first time that the community has been able to gather for a memorial service on the exact anniversary of the tornado because this is a Leap Year and Monday will be the first Feb. 29 since 2012.
The Evansville Courier & Press reports that Harrisburg Mayor Dale Fowler and Eric Gregg, the mayor in 2012, are scheduled to speak at Monday's event that is expected to be attended by people whose family members were killed in the twister.
Copyright 2016 The Associated Press. All rights reserved. This material may not be published, broadcast, rewritten or redistributed.