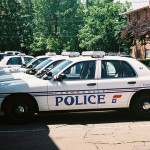 Carbondale Police say the men who robbed Primo's Pizza late Wednesday night may also be responsible for two other recent robberies.
Authorities say the men wore Halloween style masks and thick coats when they walked into Primo's carrying guns just before midnight Wednesday night, demanding money.
The suspects may be connected to robberies on July 26 at Citgo and July 27 at Dollar General – the suspects in those cases also wore Halloween masks and heavy coats.
Anyone with information is asked to call police or Crimestoppers at 549-2677.