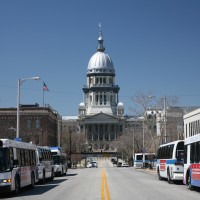 Illinois lawmakers will be in session next week as a showdown with Gov. Bruce Rauner over school finance continues.
The Senate will meet Sunday to deal with the Republican's veto of a school funding revamp. And The House will convene Wednesday.
House speaker Mike Madigan called his members back on Wednesday even while some House members were hearing testimony from local school leaders during a hearing in Chicago. He's scheduled them back in session on Governor's Day at the state fair – when Republicans typically appear at various rallies and events at the fairgrounds.